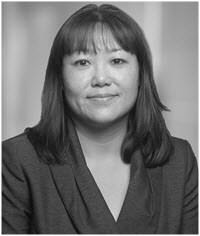 Wendy Kei speaks about her transition from a Financial Executive in Mining to a Corporate Director.
How did you prepare yourself to transition from being a Financial Executive in Mining to a Corporate Director?
I began to prepare myself by gaining additional knowledge of what to expect when serving on a board, having sat on the other side. I did lots of online research into the different courses available, accessing different industries and sought out women role models to emulate. I had always wanted to serve as a Corporate Director post retirement, but the opportunity came much sooner. My transition happened very quickly because a board approached me for a directorship role and I was appointed last May.The timing of my transition was perfect, as this gave me greater flexibility to balance my work and family life.
What was the biggest challenge(s) you faced?
It was challenging to network outside my comfort zone of the mining industry and trying to figure out where to start. I wasn't quite ready to invest in a formal governance certification program so finding the Women Get On Board network has been very helpful in making new connections. Another big challenge is that there is lots of competition for board roles from candidates who have more experience.
What skills/expertise do you find you are leveraging most to help you be an effective director?
I leverage on my breadth and depth of my experience having attended numerous audit committee and board meetings over the past 10 + years. Also having worked as a finance executive, I can relate to the management team much better as I have encountered a lot of challenging situations, so I had a good frame of reference for how to approach and evaluate unexpected events. I also find that I leverage my risk management skill set as this is crucial to any effective board.
How did you search for your current board you are serving on?
I was lucky enough that Guyana Goldfields approached me. They were looking specifically for someone who was female, with mining experience and also a CA. I met with the board and with the management team. In terms of researching a company, I recommend reading documents that give you more insight about the company. A great source of corporate information appears on the SEDAR website, which is accessible to the public. The AIF, Annual Information Form, provides the history of the company, information regarding the management team along with the corporate structure of the company. The Management Information Circular provides information on the composition of the board and their background. Finally, I read their annual reports and press releases.
What value-add do you bring to your current Corporate board that you are most proud of?
I bring strong ethics and corporate governance expertise to the board. My audit and financial background compliments my role as the chair of the audit committee and  dealings with the external auditors. It is beneficial when you can speak their language.