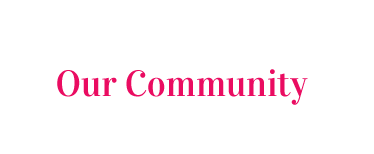 As a community of engaged women and men in Canada, we are committed to advancing women in the boardroom. Our team works towards this with the mission to connect, promote and empower the advancement of women to the boardroom. 
The Women Get On Board team has expertise in the areas of governance, board diversity, finance, strategy, marketing, social media, event planning, public relations, brand management, operations, and website & network administration.
Deborah is a steadfast champion of business, corporate governance and board diversity through her board leadership and advocacy for her social purpose company to get more women on boards. She is a change agent who frequently engages through panel discussions, podcasts, articles and e-books to share her expertise and thought leadership on corporate governance, board diversity and leadership. To learn more about Deborah's speaking engagements and publications, read here: www.deborahrosati.ca
National Strategic Partners
National Strategic Partners are companies/firms that promote the advancement of women to corporate boards. These partners connect with the next generation of women corporate directors by hosting events with WGOB across Canada. Sharing lessons and providing a forum to empower leading and serving corporate directors, governance professionals, investors and executives.
Not-for-profit organizations and select private companies/firms that collaborate with us to promote the advancement of women to corporate boards.
Regional Ambassador Council
Our ambassadors are thought-leaders, influencers, and connectors in the regions they reside who help us connect, promote and empower women to corporate boards. They are leading and serving corporate directors, governance advisors, and executives and we are grateful for their support – thank you!
Atlantic Region
Elspeth Hagan
General Counsel, McCain Foods Limited
Jennifer Nicholson (Ross), CPA, CA
Board Member, Nova Scotia Utility and Review Board and Partner, Executive Finance
Kim West, CPRS, ICD.D
President, Royer Thompson Management & Human Resources
Pamela Winsor, ICD.D
Executive Coach, Board Director & Healthcare Strategist
Calgary
Colleen Pound, MBA, ICD.D
Partner | Consulting l Prairie Region, Deloitte Canada & Chile
Ottawa
Kim Butler
Head of Finance and Intergration, Ericsson and Corporate Director
Lisa Courtney Lloyd
Vice President of Marketing at Colonnade Investments
Janice McDonald ICD.D
Founder, The Beacon Agency and Host, Fearless Women Podcast
Laurel Murray, CPA, CA
Corporate Director and Management Consultant
Vanessa Thomas
Customer Success Executive, MBA
Toronto
Vinny Bhathal, CPA, CMA
Managing Director, Finance & Investment Operations at Sprott Inc.
Debora Bielecki
Corporate Director and CEO Bielecki & Associates Inc.
Carol Darling
Corporate Director and Senior Partner, Searchlight Partners Group
Leanna Falkiner, MSc
Chief Strategy, Digital and Marketing Officer at evoQ
Dexter John
President & CEO, Gryphon Advisors
Cathy Logue FCPA, FCA
Managing Director, Toronto at Stanton Chase
Paul Gryglewicz
Senior Partner, Global Governance Advisors
Kelly McDougald
Corporate Director and CEO, Innovators Alliance
Debbie Stojanovic
National Director Business Development, Border Ladner Gervais
Vancouver
Catherine Aczel Boivie, PhD, ICD.D
Corporate Director and CEO, Strategic Technology Leadership Corporation
Annalisa King, ICD.D
Corporate Director and Chair, Vancouver Airport Authority
Monica Murray
Acting CEO, Forum for Women Entrepreneurs (FWE), CPA
Cybele Negris, ICD.D
Corporate Director and Co-Founder & CEO Webnames.ca
Our supporting partners are women and men who promote the advancement of women to corporate boards.
Kerry Adams
Rosario Astuvilca-Rojas
Judith Athaide
Scott Baldwin
Chandran Fernando
Jason Fleming
Paul Gryglewicz
Brian Hayward
George Horhota
Brady Jones
Peter Leyser
Licinia Neves
Tim Orr
Liliana Rizopulos
Rajneesh Sapra
Susan St. Amand
Marc Y. Tassé
Louise Taylor Green
Daryl Yeo
Corporate membership is for a group of women at a company, firm or organization that supports the advancement of women to corporate boards.