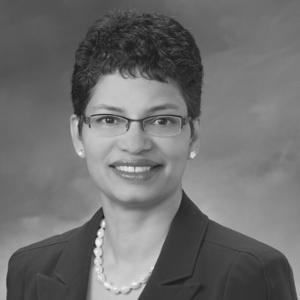 Women Get On Board Inc. (WGOB) is a member-based company that connects, promotes and empowers women on corporate boards. This is the fourth WGOB member showcase on #BoardDiversityMatters – Agents of Change, our series that profiles our WGOB members who are taking exemplary actions to champion board diversity.
Corporate director Judith Athaide still thinks about a girl scout activity from back when she was a child.
It was a relatively simple game. Each girl was given a list of twenty survival items, and she was to select the ten that were most necessary to survive being lost in the wilderness. Then, the girls were placed into groups of four or five to discuss the list again and come up with a new selection of ten items together. Each group had to discuss the options, share ideas and perspectives, debate and think outside the box.
As a last step, an expert in wilderness survival revealed the correct answer—the list of the ten most important items. The result? In almost every case, the lists that the groups came up with together were far closer to the correct answer than any of the individual responses.
"It was eye-opening to me," said Judith. "I thought I could figure out the ten things on my own, but I wasn't even close."
She still remembers that activity, not because of what it taught her about wilderness survival, but what it taught her about diversity. She and her fellow girl scouts discovered that when they came together as a group—combining their diverse perspectives—they came up with better ideas.
When people from different backgrounds share knowledge from their unique experiences, they make smarter decisions. It's a lesson Judith has carried with her throughout her career, from her first jobs in the energy industry as an engineer, to her leadership positions on corporate boards.
It's why she believes in the pivotal importance of being an agent of change for board diversity.
Since Judith began serving on her first corporate board back in 2003, she has been a leader on the issue, encouraging her colleagues to consider the value of recruiting directors with a variety of experiences, identities, and backgrounds. She pushes not only for increased female representation, but also greater training, industry, and geographical representation on her boards.
"I've found that when boards that are more diverse they have more courageous conversations," she says.
Ensuring that there are a variety of diverse voices in the boardroom is no easy task. It requires proactive succession planning and a willingness to expand the search to a wider network.
But it pays off. The first time Judith conducted an in-depth search for female directors with a highly specific skillset, she says she was "astonished and pleased" by the number of respondents with the right profile.
Fortunately, momentum is building. When Judith first started working to recruit more women corporate directors at the beginning of her board career, it was tough to start the conversation. However, social changes and added pressure from proxy advisors and investors has helped to push the issue forward. There is a growing recognition that adding women to boards creates better governance and stronger business results.
"And it's not because women are smarter, but it's because differences in lived experience result in different conversations. Those conversations lead to better decisions and better outcomes," says Judith.
She emphasizes the importance of reflecting the makeup of the company's customer-base, employee-base, and even investor-base when selecting its board. She also believes in the importance of searching for directors outside the company's sector.
Recently, she advocated for hiring a female director from the telecom sector on a gas utility board. Her reasoning? The two industries are similar in many ways, and Judith could anticipate how the gas utility board could benefit from learning how leaders in telecom dealt with similar challenges and opportunities.
But how do you find the right board members to add diversity and experience? Judith recommends beginning by defining the skillsets you're seeking. Then, expand your search beyond your board's immediate network, leveraging professional organizations and companies such as Women Get On Board that have a specific focus on board diversity. When you widen your search, you might be surprised by the immense pool of talent you find.
Judith also has advice to offer aspiring women corporate directors. If you're seeking out your first board opportunity, consider following Judith's five steps:
Step 1: Start by asking yourself why you want to serve.
Step 2: Define your value proposition as a director.
Step 3: Determine the area or sector where your value proposition is most useful.
Step 4: Expand your knowledge or skillsets if necessary to become more competitive.
Step 5: Reach out to your network talk to them about what you're looking for and how they can help you.
And finally, she advises women to be ambitious, but also patient. A board career takes time and hard work to build, but the contributions you offer can make a difference.
"Being a board member is a very different type of leadership and influence than traditional careers. You can have an outsized impact on your community, your country, and your sector."