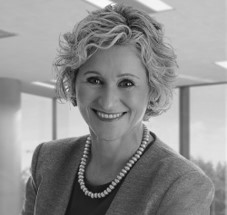 Women Get On Board Inc. (WGOB) is a member-based company that connects, promotes and empowers women to corporate boards. This is the second installment of Agents of Change, our new series that profiles women in the WGOB community who are taking exemplary actions to champion board diversity.
With 20 years of experience in the field of executive search, Cathy Logue FCPA, FCA, knows what it takes to find a great corporate director. In her role as Managing Director at Stanton Chase's Toronto office, she specializes in helping companies find top candidates to fill their board openings, develop succession plans and strengthen their board's overall expertise.
When advising clients, Cathy always offers one piece of advice: to find great directors, you must be willing to go outside your comfort zone. That means expanding the search outside your leadership's existing network and looking for candidates who offer diversity in background, experience and ideas.
Championing diversity
An FCPA by training, Cathy began her career in finance at EY. But after a decade of service at firms in Ottawa and Toronto, she knew she wanted to try something different—and she found herself drawn to executive search.
From the very beginning, Cathy has championed diversity. She highlights the widely available hard data demonstrating that when executive teams and boards contain people from diverse backgrounds, companies achieve higher returns and better governance.
"It's clear that it makes good business sense to have diversity on your team and board," she says.
As a leader at a global executive search firm, Cathy believes that search professionals are uniquely positioned to positively impact the business world by supporting their clients in building diverse boards and leadership teams. Even when her clients haven't explicitly specified it, she says she and her partners across Stanton Chase have committed to ensuring that every long list they present is composed of at least 30% women. By bringing forward diverse candidates, she helps her clients embrace diversity and champion change.
And according to Cathy, companies are embracing that change. In fact, they're beginning to seek it out. She says many of the boards she works with are specifically requesting female candidates, knowing that a diversity of backgrounds and experience makes for a stronger board and better governance.
"Look at the numbers over the last five years. We've gone from 11% to over 20% women on boards. We still have a long way to go before we see true parity. But it's progress. The trend is in the right direction."
Building a pipeline
What can companies do—beyond hiring a great executive search partner—to ensure they champion board diversity?
As part of her process, Cathy also consults with companies on their succession planning, helping them to crystalize their plans for their senior leadership team and board years down the line. She says she always advises companies to focus on creating a strong, diverse internal pipeline of candidates by mentoring and empowering women and people from diverse backgrounds within the organization. Fostering this pipeline allows companies to prepare the next generation of potential board candidates.
"If you're not building a pipeline of leaders, then there won't be any women who are board ready," Cathy says.
Cathy also encourages companies to consider allowing executives to serve on boards. Although it hasn't been widely promoted in the past, companies are increasingly open to it, acknowledging that it creates an opportunity for strong executives—especially women—to strengthen their skills, add to their knowledge and gain new experience that they can bring back to their role.
Getting on board
As for women hoping to join a board themselves, Cathy is happy to offer her advice as a professional in the field.
First and foremost, she advises women to invest in their education. In addition to formal learning streams—WGOB programs, for example—Cathy recommends "reading anything you can get your hands on"; She also considers engaging with your network of experienced corporate directors as an excellent way to leverage their "real world" experience.
"Learn from women—and men—who have different experience from you and invest in your professional development," she says.
Most importantly, Cathy recommends networking. She advises that even when a company chooses to use a firm like Stanton Chase for their director search, candidates who have built strong networks are still more likely to be selected.
"You have to be on the radar to be found," she says.
As for Cathy's own career, she looks forward to continuing her work helping companies enhance and diversify their boards. It's a labour of love, and she's proud to be an agent of change in the realm of board diversity. Without a shadow of a doubt, she knows that bringing more women onto corporate boards is a win for everyone.
"When I think about what will make my client more successful—that's ultimately my job—it's having a more diverse leadership and board."
With so much positive momentum building, there is no better time to become a champion for board diversity, whether you are a board director, an investor, a senior leader or a consultant. Cathy's story is a powerful example of what is possible when you choose to become an agent of change.