Serving on a board can be an enriching experience—and it's one of the best ways to advance your career. Board service has both personal and professional benefits, including opportunities to:
Build your network and personal brand
Give back to organizations with meaningful missions
Learn different perspectives that can apply to your existing roles
Get sponsored for governance education programs (i.e. ICD.D, C. Dir, CDI.D or GCB.D)
Develop governance leadership skills
Get access to new knowledge, skills, perspectives, management styles, corporate cultures, business models, mentors, and connections
Serving on a board is a meaningful way to build your career and enrich your network. Let's talk about positioning your board offer. It starts with four key steps:
Assess Your Board Readiness
Identify the Right Board for You
Create Your Board Value Proposition
Build Your Board Resume and LinkedIn
Assess Your Board Readiness
To prepare for your first corporate board seat, it is essential to evaluate your board readiness. However, if you have never served on a board before, it can be challenging to determine if you are board-ready or not. For example, many people believe that experience as a successful executive is the only requirement for being a corporate director. However, because there are many differences between being an executive and being a corporate director, you need to think about the value you can bring to a board.
Before you prepare your first corporate board seat, ask yourself these ten board-ready questions:
Do you have a minimum of 10 – 15 years of experience in a senior executive role in the public, private, crown or not-for-profit sectors?
Are you prepared to commit at least 200 to 300 hours per year to a corporate board role?
Do you have the support of your Board of Directors and senior executives to serve on a board?
Do you have a formal governance certification or designation (ICD.D, C. Dir, CDI.D or GCB.D) from the Directors College, the Institute of Corporate Directors or Competent Boards?
Have you ever served on a not-for-profit or for-profit board?
Are you a team player who understands that boards' dynamics are one of the most critical components of good governance?
Do you fully understand a corporate director's role, responsibilities and liability?
Do you understand the difference between a board of directors and a management role?
Do you have financial acumen? That is, can you read and understand financial statements? If not, consider our WGOB Financial Intelligence in the Boardroom program
Do you have experience in critical areas in our changing world such as risk management, global markets, M&A, cyber security, digital transformation and ESG?
Identify the Right Board for You
As I detail in my blog, I began my board journey without prioritizing the diversification of my board portfolio. By "board portfolio," I'm referring to the various boards you lead and serve on. Analogous to your investment portfolio, you want to develop your board portfolio strategically to accurately reflect your risk profile and the stage/age of your career. And like your investment portfolio, you should regularly monitor and review your board portfolio to ensure you are getting a return on it.
When thinking of diversifying your board portfolio, here are four critical areas for consideration:
Time Commitment
It is essential to understand the time commitment required for each board you serve. Each company goes through different stages, which might include emerging, growth, transformation, downsizing and—possibly—restructuring. Each stage requires a different time commitment, so it is critical to know the time you have available for each board you serve.
Industry and Sector
It can be helpful to consider which industries and sectors interest you or spark passion. Have you considered diversifying your board portfolio by joining boards in new industries or sectors? Joining a board in a new sector offers an exciting opportunity to expand your skillset.
For example, I joined MedReleaf (TSE-LEAF—acquired by Aurora Cannabis Inc. TSE-ACB) even though cannabis was an industry in which I had not worked before. Joining the MedReleaf board allowed me to apply my public company experience and financial/governance expertise to an emerging sector.
Your network
Be strategic about whom you know in your network and how those contacts can become meaningful connections to members of a board you are interested in. Now, you're ready to reach out and learn more about the company and how you can bring value. However, remember that it can take a while to get to that point. In my blog post, The Power of Connection, I talk about setting your intention:
If you are searching for a new board appointment, here are some factors to consider before reaching out to a contact for a meeting:
Expertise: A corporate board appointment is all about how you can add value to the board with your skills and expertise. As you consider joining a board, you should ensure that you have sufficient knowledge in an area that boards require, such as governance, finance, IT, HR, global operations, government relations, M&A, ESG, and digital transformation.
Industry: Consider what industries you have experience in. Then, think about whom you know in a particular sector and how they might help you connect with others in those specific industries.
Passion: Before you contact a connection, make sure that the board you are interested in is where you want to be. If you aren't passionate about it or there isn't a solid connection to your interests, don't pursue it.
For example, I always lead with my board value proposition, so people understand my background and intention.
Compensation
Board compensation can vary depending on the size and stage of the company on which you are serving as a board member. You can review board compensation trends here.
Create Your Board Value Proposition
Creating your board value proposition is one of the most critical elements of your board journey. Well-functioning boards have diverse memberships with varying experiences, cultures, genders, ethnicities, ages and geographies. Your board value proposition is what you bring to the boardroom table and how you differentiate yourself from other board members and other board candidates.
Overall, you want to demonstrate your value to a board. The Savvy Director published a resource called "Guide to your Board Value Proposition" that defines the value you bring using this Venn diagram:
"Think of your value as a Venn diagram with three concentric circles—your knowledge of the issues, the influence skills you've honed over time, and your leadership that lets you know when to lean in and when to step back. Your value is at the intersection of the circles."
—The Savvy Director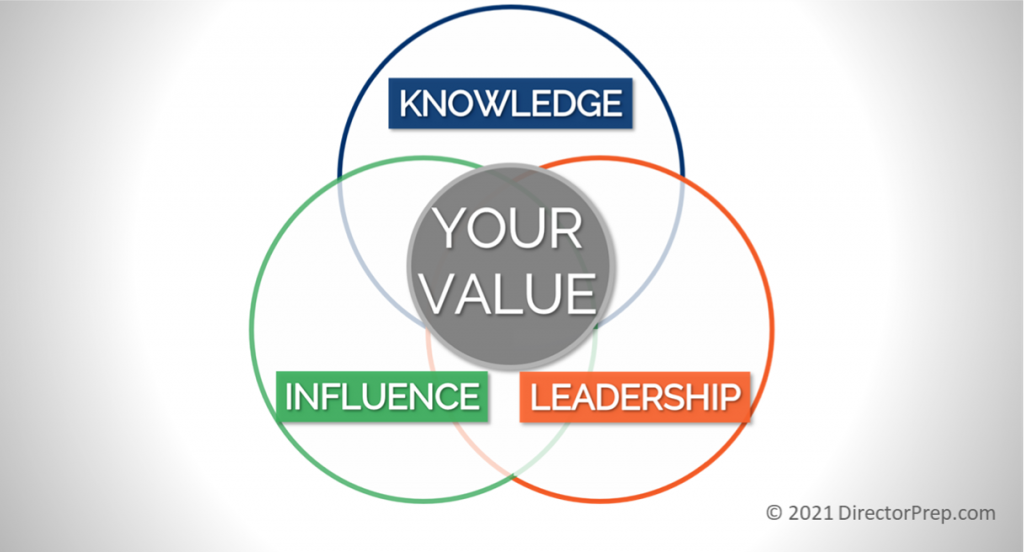 You should be able to articulate your board value proposition in a 30-second-or-less elevator pitch. And you should include specific expertise, skillsets the board currently lacks, and how you are a leader in their industry (or a synergistic sector). Here is my elevator pitch that I have honed over the years:
I have entrepreneurial, financial and governance expertise with high growth and transformational companies in the technology, retail, consumer and cannabis sectors.
Build Your Board Resume and LinkedIn Profile
You have determined that you are board-ready, identified your best board fit and created your board value proposition. The next step is to build a compelling board resume. Building and updating your board resume is a dynamic and ongoing process. In addition, unlike a professional career resume, your board resume is highly targeted toward the board position you are seeking. Therefore, it is essential that your board resume be authentic, illustrate your brand, and show your unique value proposition. For more information, review this blog post on building your board resume, which I've prepared for situations like this one. Additionally, take a look at my board resume for inspiration.
Your board resume and LinkedIn profile should highlight your:
Board value proposition — the value add you bring to a board or your unique offering;
Skills and expertise — what is your unique skills and expertise that you bring to a board
Industry-specific knowledge — what industries do you have knowledge/experience in
Career accomplishments — highlight your executive roles and other relevant leadership experience to showcase your understanding of the business, the industry and the broader macro environment and gain the respect and confidence of the current board members;
Speaking engagements and awards — list areas in which you are sought after as an expert or thought leadership and any awards that recognize you for your accomplishments;
Current and past board experience — highlight the committees on which you have served and your relevant leadership roles, e.g. Chair of a Committee or Chair of the Board.
Don't forget to update your LinkedIn profile with the highlights from your board resume! In today's digital age, LinkedIn is often where you will make your first impression, and your profile must paint the picture of your best board self.
Make sure you include:
A professional photo of yourself
A summary of your board value proposition and critical expertise in the "About" section
Highlights of your publications in the "Featured" section
Your experience
Your education
Your certificates and professional designations
Conclusion
Positioning your board offer takes time, creativity, feedback and continuous effort. It is a journey, and it is filled with constant learning up, leaning in and getting sponsored.
For more tips on getting yourself on a board, download my e-book How to Get Yourself on a Board or consider joining a WGOB program.