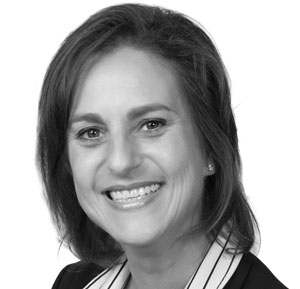 Lisa Swartzman, ICD.D serves on the boards of TerrAscend Corp. [CSE: TER; OTCQX: TRSSF] and the Distress Centres of Greater Toronto. She is currently Vice-Chair of AirBoss of America Corp. [TSX: BOS], having previously served as their President since 2015. Prior to that, she provided treasury and M & A consulting to small and mid-market privately held companies after 15 years with the Weston/Loblaw group of companies, culminating as Vice President, Treasurer.
How did your career prepare you for board work?
The formative years of my career with the Weston/Loblaw group taught me a tremendous amount. Its an organization that's always prided itself on its corporate governance and I was fortunate enough to be in a role that had exposure to the board, which gave me the opportunity to see how an effective board functioned at a relatively early stage in my career.
When did you start thinking about boards as something you wanted to do?
I had been invited to join the founding board of the Canadian branch of a professional organization while I was at Weston/Loblaw, but from a personal perspective I started to think about non-profit boards first, as a way of making a difference.
I wanted to join a non-profit that was personally meaningful to me and where I felt I could add value. I was introduced to Distress Centers of Toronto at the time. They are Canada's oldest volunteer delivered crisis, emotional support and suicide prevention + intervention + postvention service agency, providing 24/7 support. They are amazing people who are so dedicated to helping those in tremendous distress. Over the years both the board and the organization have gone through a tremendous amount of change, most recently a merger with their Peel region counterpart to form Distress Centres of Greater Toronto. It's been really rewarding work.
Can you describe the process of being appointed to the TerrAscend board?
The Chair of their Audit Committee who is a former CFO of George Weston and someone I've known my entire career, contacted me. He's been involved with TerrAscend since their early days and they'd reached a stage where they needed to add additional strength and depth to their board.
I subsequently met with the CEO and the CFO, who was also formerly with Loblaw, toured their facility and went through their history and plans. I talked with my contacts to get their views on the industry, the company and management team as well as the Chair of the Board. Plus, I had several calls with the Chair. Ultimately, I was really impressed with the team.
What are your initial experiences on the TerrAscend board?
It's really exciting to be on a board in a emerging industry. The calibre of people is outstanding, and the time on up-front due diligence was well spent. I'm very comfortable with the team. The genesis of a emerging industry that's moving at the speed of the cannabis sector comes with potential compliance and governance mishaps, which we've seen recently and may still see going forward. So, it was important to me to join a board whose mindset was completely opposite to that.
Do you have goals for more boards?
I'm not ready to stop working full time yet, but I would like to join one or two more. I want to be cognizant of my bandwidth and my ability to find what I want to do both in terms of a full-time career and contribute effectively to any board I'm on.
What advice would you have for your younger self given what you know now?
Start networking earlier, not because "you need to network" but because there are really interesting people out there, who have had really interesting journeys and who are in really interesting businesses that you may never have known existed. Life and work get busy so it's hard to be consistent about it, but it's worth the effort.
Your thoughts on the progress of women on boards?
I think there's positive momentum, but there's a disproportionate number on Crown corporations and non-profits. Public companies are still more male dominated, but there is encouraging progress and intentional effort.
As women, I think it's an amazing movement that's going on. For most of my career, being a woman hasn't been particularly helpful. I think that the tide is really changing. When I started my career, there were fewer women in high profile corporate roles. Sometimes they were willing to help other women and sometimes they weren't. I think that people are much more helpful now. But I also think we need to be careful that we don't get too dogmatic about it. The reasons for including diverse candidates should be because they add value and not just because they happen to tick a box.