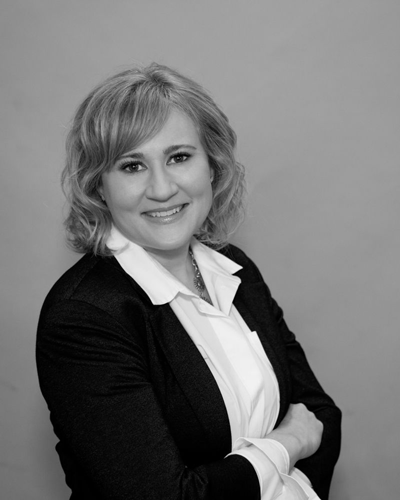 Leanna Falkiner, MSc, ICD.D, serves on the boards of Coast Capital Savings Federal Credit Union and the North York General Hospital Foundation. Leanna is CEO of evoQ International, a strategy consultancy focused on helping companies across the financial services sector excel in the digital economy.
Research shows that board diversity generates better financial performance, improves overall decision-making, and encourages innovation. That's why our mission at Women Get on Board Inc. (WGOB) is to get more women on boards. We are passionate about improving representation across boards, including those of diverse gender, ethnicity, experience, age and experience. We launched this #BoardDiversityMatters series to profile diversity champions among our members.
Today's blog profiles Leanna Falkiner MSc, ICD.D, a younger corporate director on the rise. Age diversity is an issue that is gaining merit in today's boardroom as discussions necessitate new perspectives and areas of expertise. Younger board members often bring a range of skills—from e-commerce and digital marketing to artificial intelligence and customer insight. Elevating younger voices alongside long-tenured board members creates cross-generational competencies that can raise a board's effectiveness.
However, just 6 percent of corporate directors are 50 years old or younger, according to the 2021 US Spencer Stuart Board Index. The bright spot is that of that 6 per cent, nearly 50 per cent of "next-gen" directors are women.
WGOB sat down with Leanna to learn more about her board journey as a next-gen corporate director.
1. What drove you to serve as a corporate director?  
As a purpose-driven, digital-savvy executive, serving on boards felt like a mutually beneficial and natural progression in my career. I have actively sought board opportunities with forward-thinking enterprises that skillfully balance bottom-line results with social purpose. Equally, where my digital marketing and e-commerce skills would provide value to strategic decision making.
Board service has broadened my perspective and enriched my skill set. It's a tremendous privilege to see a company from a unique vantage point while helping to facilitate responsible stewardship.
2. What does your board journey look like?
While my board journey is in its early days, the steps to get here have come with thoughtful planning and support.
Without a doubt, I've been incredibly fortunate to have board champions, most 15+ years my senior, offer advice and shared experiences. Their input and support have helped me gain my footing in the boardroom. Harnessing the power of this community has been key to my board success. My proactive approach to forging relationships with executives who already serve as corporate directors has paid dividends to me personally and professionally.
I appreciate the guidance my network provided to deepen my governance competencies while showcasing my technical skills. With this counsel, I completed my ICD.D designation and   embraced continuous learning to ensure I was board-ready.
Looking ahead, my focus is on continuing to build boardroom capital and championing diversity of thought in a post-covid landscape.
3. Why do you think age diversity on boards matters?
Age diversity infuses new skills, insights, and perspectives into the boardroom. As technology continues to disrupt and customer preferences rapidly evolve, the demand for next-gen directors is rising.
In addition to benefitting from mid-career executives who have a pulse on emerging sectors and relevant expertise, multi-generational diversity can open a path to more inclusive and collective corporate governance, positively affect a company's culture while supporting organizational efforts to keep pace with an evolving market.
I believe that by embracing younger directors, boards widen their talent pipeline and reduce what may be a reliance on the retirement-based refreshment approach. Getting the balance right between more tenured directors who can bring deep experience and expertise with next-gen directors is key to success. Inclusion and consideration of all perspectives help organizations be agile, adaptive, and resilient.
4. How can boards help next-gen directors be successful?
As next-gen directors become more common, I believe it is vital that boards invest in their success through a combination of comprehensive onboarding, appointing a champion, thoughtful integration, and an open-minded attitude towards their contribution.
Board champions can help younger directors decode the unwritten rules of the boardroom, learn how things are accomplished, and confidently share their perspectives. This enhances the board's collective intelligence and next-gen directors' effectiveness.
Board members new in their board journey, stand to have the most success when they are encouraged to lean in, to speak up and feel their perspective is valued.
5. What advice would you offer to aspiring next-gen directors?
Board service is a serious time commitment. I'd counsel aspiring next-gen directors to be clear about your motivation and ensure you understand the commitment you are undertaking, as you will need to balance your boardroom obligations with your day job responsibilities.
Competition is fierce for the relatively small number of board roles. While boards are increasingly prioritizing diversity, you cannot underestimate the vital importance of competency.
The journey to the boardroom can be long and sometimes challenging. Beyond the preparation, the appointment process itself can take up to a year, continue to nurture your learning in organizations like WGOB and be open to feedback.
6. What are you doing to improve board diversity?
I'm actively committed to advancing diversity by fostering an inclusion mindset and promoting diversity as a strategic opportunity for board-building. I believe cultivating a culture of inclusivity, where differences are celebrated, should be a continuous priority for boards. While many companies are making notable strides to increase diversity, significant work remains. As a next-gen director, I have a desire to pay it forward by creating pathways for future leaders, just as my mentors have for me.
As board diversity continues to rise in Canada and worldwide, WGOB hopes to see more next-gen directors like Leanna get a seat at the board table.