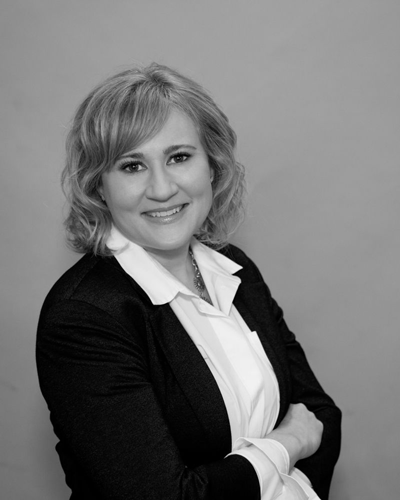 Leanna Falkiner, MSc, ICD.D, serves on the boards of Coast Capital Savings and the North York General Foundation. Her previous directorships include Greenock Resources, Inc. (TSX-V: GKR) and Crossroads International. Leanna is CEO of evoQ International, a strategy consultancy focused on helping financial services companies achieve top performance.
What inspired you to pursue a board position?
Boards are increasingly tasked with navigating through complex decisions. I'm motivated by the continual evolution of the board governance agenda and how my skill set can assist boards in tackling these issues.
I'm a growth architect who specializes in helping businesses harness disruption to boost profitable growth. My passion and skills lie in expertly unlocking market opportunities, architecting large-scale growth and transformative strategies that build brand equity, and position firms to excel in the digital economy. Navigating complex environments energizes me. It's a tremendous privilege to see a company from a unique vantage point while facilitating responsible stewardship.
Serving as a corporate director was the next progression in my career. It's inspiring to see boards increasingly value diverse competencies around the table. Each board member brings unique skills, industry experience and perspectives to the discussion. Honouring this diversity fuels excellence. I have a deep appreciation for the diversity of thought and have seen diverse boards navigate today's business challenges more successfully.
How did you go about crystallizing your board value proposition?
Competition is fierce for the relatively small number of board roles compared to potential candidates. It's imperative that you can articulate your value and key differentiators clearly and concisely. Many women are reluctant to promote themselves.
To crystallize my board value proposition, I removed the emotion and bias. This allowed me to identify and hone-in on my strengths. If you step back, there is a product, unique selling features, competition and a target market. You are the product, the boards you wish to serve on are the target market and your gifts are the unique selling features.
What role did mentors and sponsors play in your success?
All successful leaders have a network of champions. I have been blessed with mentors and sponsors who have been invaluable to the pursuit of my professional and personal goals. Their input and disciplined approach has been instrumental in shaping my leadership and underpins the value I place on cognitive diversity when working with colleagues and clients. I'm fortunate to count many of these senior leaders as friends.
At all stages of my career I have benefitted from their professional guidance, navigated organizational politics more successfully and learned how to lean into calculated risk-taking. My champions strongly encouraged me to begin my corporate board journey early, complete my ICD designation, and actively network. They were very deliberate catalysts for me and have had an imprint on my leadership skills and style.
Has networking been a critical part of your board success?
I'm a natural connector, who subscribes to a pay it forward philosophy, always willing to facilitate a connection, offer a solution, or share a laugh over lunch. The strong, trust-based relationships I have built along the way are the most strategic and valuable asset in my arsenal. I've been fortunate that my network has supported me throughout my entrepreneurial journey.
A network of champions is formed through a combination of structured processes and relationship-building. I have nurtured and maintained a rich network across sectors, disciplines and tenures. It's the quality of these connections that lead to referrals. Your network doesn't have to be large to be effective. No one makes it alone.
Harnessing the power of this community has been key to my board success. Networking with executives who already serve as board members was a foundational pillar in my search strategy. Board members often refer colleagues or inquire with other leaders for suggestions on board candidates. I find it energizing to meet and learn about people.
What steps did you take to identify the kinds of companies on which you wish to serve?
As I researched prospective companies, the strength of diversity, organizational culture and growth agenda were key variables I considered. Sector was not a determining factor. Due diligence revealed whether my expectations were aligned with the board's and enabled me to proceed with confidence.
Deciding to join a company's board is a major professional milestone. It should be a mutually beneficial experience where the director is engaged in a growth opportunity and the company benefits from their valuable skills and perspectives.
What has been your biggest learning as a board member?
Finding a balance between when to speak and when to listen. As a new board member, you want to demonstrate value. However, real impact comes from an extended contribution. Transitioning into a Director role requires you to showcase different skill sets and mindset.
What do you know now that you wish you had known then?
In reflecting back, what I discovered was the importance of embracing uncertainty. All business decisions contain some aspect of risk. Learning how to lean into calculated risk-taking is a skill. It requires you to evaluate the probability of success, identify mitigation actions and assess your personal perceptions, all at the same time. Making decisions with imperfect information can be paralyzing. However, having all the answers is not a prerequisite for success.