Women Get On Board is a member-based company that connects, promotes, and empowers women to corporate boards. That's why we've launched the Women Get On Board Virtual Speaker Series, focused on topics that are essential for boards to be more effective in their roles. Last month, we chatted with Beverly Behan, President of Board Advisor LLC and author of Board and Director Evaluations, a Practical Guide for Governance Committees, about How to Successfully Evaluate Your Board and its Directors.
In the second speaker session of our series, our Founder & CEO Deborah Rosati, FCPA, FCA, ICD.D spoke with Cathy Logue, FCPA, FCA, who is the Managing Director, Global
Practice Leader, CFO & Finance of Stanton Chase. Stanton Chase is a retained executive search firm, established in 1990 and with over 75 offices in 45 countries. The topic of the session was board composition and renewal, with a focus on diversity and inclusion.
"Board composition is not a one size fits all approach. Boards have to reflect a mix of skill, independence, and diversity—and it's a continuous process," said Cathy. "Boards need to continuously assess their composition to maintain their competitive advantage."
How can we ensure that we are going beyond the status quo to build boards are composed and renewed effectively? Cathy's session focused on five major topics to consider when creating top-tier boards:
Diversity, Equity, and Inclusion: Creating a "Tone at the Top" Culture
Diversity Policy Disclosures: Quotas or Targets?
Building Board Renewal Strategies to Create Change
Identifying Skills Needed Today and in the Future
Expanding Networks to Reach Diverse Board Candidates
Diversity, Equity, and Inclusion: Creating a "Tone at the Top" Culture
First, it's important to discuss what diversity and inclusion really mean. As Cathy pointed out, "Diversity is being invited to the party, inclusion is being asked to dance." Cathy said that many large companies are beginning to set the right tone for a culture diversity, equity and inclusion straight from the top.
For example, when Hewlett-Packard (HP) recently rebuilt their 12-member board, their new composition included 58% visible minorities and 42% women. HP's CEO Enrique Lores said, "Diverse corporate boardrooms drive equity, equality and performance." This change has translated across the organization. HP has set company-wide hiring targets of a workforce composed of 40% women and 63% underrepresented minorities.  They also plan to double Black and African American executives by 2025. By making a push for diversity and inclusion at the board level, HP was able to set a strong tone for their entire organization.
Deborah said that in her more than 30 years of entrepreneurial, financial, & governance expertise with high growth and transformational companies, she has begun to see the same trend of boards creating "tone at the top" cultures. She gave the example of a recent Ottawa biotech she spoke to that was determined to make diversity and inclusivity a top priority as they renewed their board.
Diversity Policy Disclosures: Quotas or Targets?
The next topic Cathy and Deborah covered was diversity disclosure policies, in which companies are mandated to release the number of board members and senior executives that are women, visible minorities, Indigenous people, or people with disabilities. More and more governing bodies are beginning to enforce these disclosure policies, including Canada and California. Additionally, research groups such as Osler are providing reports and data to establish global metrics, which enable companies to see how they compare to their industry.
Many large organizations are beginning to set diversity quotas and targets.  For example, most large institutional investors, including CPP Investment Board and Blackrock, have begun to set policies for minimum numbers of women and minority board members to drive change in their organizations. However, Cathy warned that we must be careful not to create a culture of tokenism, where women or minorities only have a seat at the table – or feel they only have a seat at the table – because of their gender or race. Rather, boards must strive to include and engage with all their members.
Building Board Renewal Strategies to Create Change
By now, you've heard that board composition is crucially important. But in Cathy's words, "Great boards don't just happen." One of the best ways to create lasting change for amazing boards is through board renewal strategies. That's why it's important to build board renewal mechanisms such as tenure, term, and age limits into your board strategies. It's important to note that when discussing limits, we are looking at 5-10 years, so boards won't lack experienced directors.
"It's really about finding the right mix," said Cathy. "You need to know what has worked in the past and lay the foundation for the future."
Identifying Skills Needed Today and in the Future
When you are aware that there is board turnover on the horizon, you can use the board skills matrix below to determine where your gaps are and what kind of candidates you need. Then, you can create a pipeline of diverse candidates that for that profile.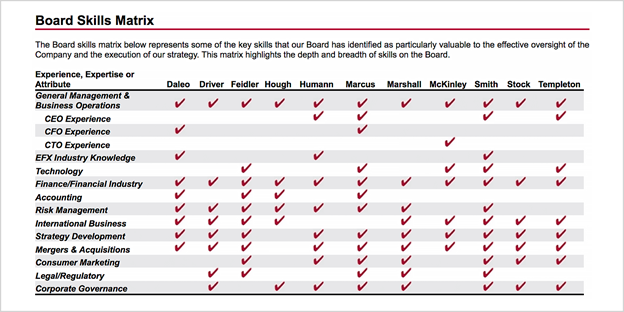 Deborah added that it is especially important to evaluate your board skills matrix when you are building Board 2.0, or when you are evolving from a founder- and investor-based board to a mature board. Ask yourself, what is different now? What skills are better suited for an earlier stage company? What new skills will you need in the future?
Expanding Networks to Reach Diverse Board Candidates
Once you've determined what kind of skills you need, it's time to build a pipeline of candidates. Cathy warned that it can be difficult for boards to build a truly diverse pipeline. Why? Our networks are often composed of others who look just like us. That means if boards only search for new candidates within their network, they are unlikely to build a diverse roster of potential board members. Also, many people have unconscious biases that prevent diversity and inclusivity in the search process.
What's the solution? Try employing new tactics to prevent bias against diverse candidates. These tactics include hiring executive search firms who walk the talk with a strong track record of diverse placements, accessing global talent markets such as the AESC BlueSteps Diversity Database, and approaching the search process with newfound rigor, immersion, and objectivity. You can also tap into the resources that prioritize diversity, including Women Get on Board's board shortlist services, theBoardlist, Catalyst, Women in Capital Markets, and BlackNorth Initiative.
Interested in learning more about effective boards and governance? Join us for our next Women Get On Board Virtual Speaker Series on November 16th about Executive & Director Compensation Beyond COVID-19. The session will feature Paul Gryglewicz
Head of Canada & Senior Partner at Global Governance Advisors. Register here.