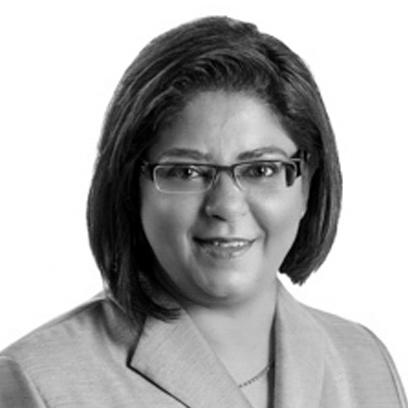 Anar Shamji Popatia, ICD.D, serves on numerous boards and advisory councils, including Consumer Protection BC, the Vancouver Foundation and Canuck Place Children's Hospice with previous appointments to the Multicultural Advisory Council, amongst many others. She is a partner in a family practice with Assante Wealth Management after 15 years in consulting and business development with Dun & Bradstreet working with multi-size companies in a wide range of industries. Anar is a recipient of the BMO Celebrates Women on Boards Award for empowering women to lead in corporate governance and the RBC Top 25 Canadian Immigrant Award in recognition of her leadership in community engagement.
What inspired you to pursue board work?
I wanted to give back because Canada had been so good to me.  I purposely chose to be on boards to develop my leadership skills, and to be on boards for organizations whose vision, mission and values align with mine. I felt it would ultimately make me a better and more effective leader.
I also saw it as a way to contribute to the highest level of decision and policy making in the interest of public good, which is very important to me.
I was shaped by my first interaction on my very first day at university. I arrived late on campus at Brock University because at the time there was an attempted coup in my home country of Kenya. I was in the elevator on my way to pay my fees. In walks a gentleman, so nicely dressed. He said, 'When you finish, come to the 13th floor.' I was young and naive, so I went, not knowing who he was and where I was going.  He asked, 'Are you Anar? You've been recorded as missing. Please come into my office. How can I help you?"  He was the President of Brock University. Those words are what I use when I do the work that I do.
So, when I say I have an ethos of giving back through community and public service, I was shaped by the kindness and comfort that he showed me. I intentionally chose to be on boards in civil society and the public sector for the last 20 years.  This was my way to give back to my community, my province, and my country.
How important has networking been in your success?
Networking is crucial. I learn from every interaction. When I first enter a room or an event, I make sure that I am fully present and that I leave with at least two or three names of people I can genuinely add to my network.
The intent of networking and building a connection is not so much to get something for myself, but to see if I can help them or if together, we can help someone else. I intentionally reach out to individuals whose profiles have showcased interesting experiences and ask for a chat so that we can share our journeys together. Inevitably these calls leave me with a feeling of a genuine and authentic connection being made.
What role have mentoring and sponsorship played in your board journey?
Mentors are individuals who support, encourage, advise and inspire you to achieve your best – they are your cheerleaders. I haven't had many mentors, but I've had a lot of sponsors. Sponsors are individuals you've worked with in the past who endorse what you've done and out of mutual respect and trust make those crucial introductions. That's vital for board work.
I strongly believe in mentoring young people. It energizes me to see that they are striving for something bigger; putting their foot forward sometimes in uncomfortable situations. I'm there to lift them up.
I say this to many young individuals whom I mentor: you don't know what you don't know. When you speak to somebody, it broadens your horizon. It lets you know what experiences they've had, and what's possible, which is so important.
Diversity is a key issue for today's boards.  From your background on the Multicultural Advisory Council of BC and your other board work, what do you think are some key steps boards should take?
We know diversity in the boardroom sets the tone from the top and works its way into the C- suite and into the organization. It introduces fresh perspectives and challenges groupthink. Studies have shown that diversity is good for business and is likely to lead to better financial and environmental performance among other benefits.
We have to advocate against both tokenism and diversity for its own sake. It must be merit based. Companies need to make a concerted effort to cast a wider net in the recruitment process in order to reflect the Canadian population and their client base.  It's beneficial to have a balanced board with differing opinions. This brings true diversity of thought into the boardroom. We need to be more intentional about it.
How do you envision your board future?
My industry experiences are in the financial, health care, education, manufacturing and distribution sectors with functional expertise in credit risk, supply chain, business development and client relations. I'd like to contribute to both profit and purpose. I am interested in joining a corporate board and am open to exploring the possibilities. The health sector, mainly digital health and pharmaceuticals companies interest me. I certainly would look at a federal agency, board or commission. This would be in alignment with my ethos in serving for the public good.
What advice do you have for younger women at the beginning of their board journey?
Move forward in life with purpose, passion and presence. By that I mean, be curious and learn, show up when you need to show up; engage in public speaking; get known and be present in every conversation and in every interaction you have. Definitely, network early in your life.
We all have to lift each other up in small and big ways. And if we do, then we will all rise up.